Car rental in Majorca.
What does car rental in Majorca look like? Car rental in Majorca is full. I am not surprised that it is difficult to choose something suitable. And in addition, not all companies are stationed at the airport or deliver cars to the place you choose. Or they deliver, but for a large fee. I know that for us – Poles, price really matters. In Poland, we do not earn in euros, and we often save the whole year on holidays. Many people write to me asking for a car rental order. In this post, I decided to compare the prices of different rental companies and clarify a few issues regarding parking lots, tickets, driving license and driving method in Majorca.
Car rental in Majorca – can You drive in Majorca with english driving license?
Yes you can. The law looks practically the same as in UK. When renting a car you will need your driving license and ID card or passport. In Majorca, you drive the right side, just like in Poland. It happens, however, that the English confuse sides and drive into different places against the current. The same happens on pedestrian promenades. How old do you need to be to rent a car? The rental companies reserve the right to rent cars only to persons 23 or older. However, there are exceptions.
It is really worth to read policy before signing contract.
The same applies to higher fees. Often, younger drivers must pay an additional fee for being under 25 years old. The point is that such drivers usually don't have much experience and cause more accidents. They drive more recklessly and do not look at the consequences. They come to Majorca to have fun, unfortunately often thoughtlessly. For this reason, some rental companies simply do not rent cars to drivers under 25 years of age. However, there will be those who rent a car from 18 years of age.
How does the situation with photoradars and tickets in Majorca looks like?
By signing the contract, you provide the rental company with your address and your data, and often also your card details. When the ticket comes to the rental, it sends the ticket to your address. Of course, this mandate is in Spanish. The fine must be paid as soon as possible, and if it is paid within seven days of being received, only half of its value is paid. This can be done online. Some rentals, upon receipt of a ticket, also charge a ticket fee from your card. It is usually 20-30 euros.
I do recommend to read policy.
There are also speed cameras in Majorca. Most of them are marked with signs, some will also appear on Google maps. If you enable radar visibility on google maps, they will all pop up. The police are rather rare on the road. You will sooner see them at the coffee shop. Policemen are friendly, always willing to help. Inserting seats without a goal is unlikely to happen here. Same checking speed on the road. It's really rare. However, it is different in the capital, Magaluf, Palmanova or El Arenal. They are party districts and there the police are definitely more visible and the situation looks completely different.
Car rental in Majorca – are the roads in Majorca great?
Majorca has its own laws. In the season here is full of tourists, as I mentioned earlier, of different ages and with different experience. I find it extremely funny that no one in Majorca uses direction indicators. And if he uses them, he simply forgets to turn them off and goes on with the turn signal for hours. Majorca is also an island of roundabouts. There is not much traffic light here. Roundabouts solve this situation.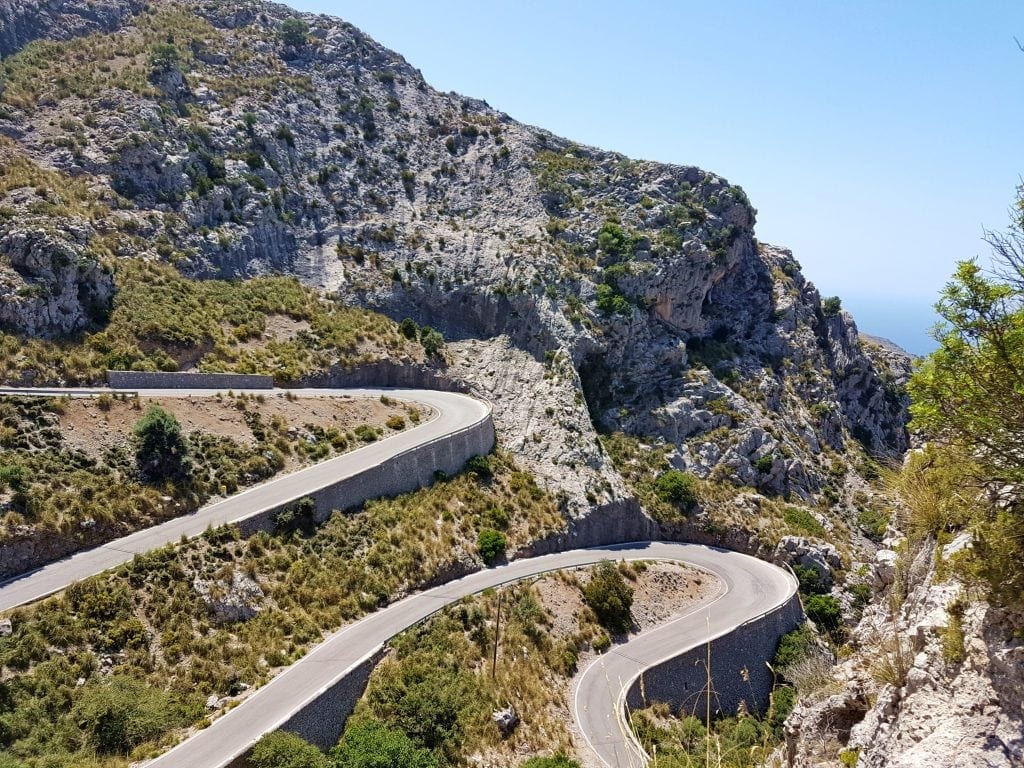 How to drive on the roundabout when nobody is using turn signal?
Exactly. I recommend you just be careful, especially when you rent a car. For this reason, I recommend renting a car with full insurance. You will avoid costs in the event of an accident and the like. In addition, Majorca has very good roads. The only thing that can bother you is that some monuments and attractions have a hard access. For example Sa Calobra (https://namajorce.pl/en/spain/balearic-islands/majorca/sa-calobra-adventure/), Formentor (https://namajorce.pl/en/spain/balearic-islands/majorca/formentor-and-cala-formentor/) , Valldemossa (https://namajorce.pl/en/spain/balearic-islands/majorca/valldemosa/) , Deia or Cala Deia. Rustic roads are narrow and winding and lead through huge cliffs. For people with fear of heights or little experience on such roads this can be a problem.
How does the situation with parking looks like in Majorca?
There is a car park under almost every attraction. Of course, not all car parks are large enough to accommodate hundreds of cars. Therefore, if you really want to see something, I recommend you go sightseeing in the morning. Some parking lots are paid, others are not. Paid parking lots can be found for example at Są Calobra and Formentor. Other parking lots are so small that it's hard to find a place. For example in Deia or Valldemossa. It is worth going to those areas either in the morning or in the evening. Parking lots at the beach are usually free and are located right next to it.
Where in Majorca You cannot park Your car?
At the entrances, on the yellow line, on the solid white line. The blue line usually means paid parking. I do not recommend parking in unauthorized places, because locals like to complain about tourists. And rented cars always have a car rental badge. I do not recommend to upset the locals! There are also places that cannot be reached by car. Then the cars are left on the road and the place can be reached on foot. This is the case with Cala Varques or Cala Marmols (https://namajorce.pl/en/spain/balearic-islands/majorca/cala-marmols-majorca/).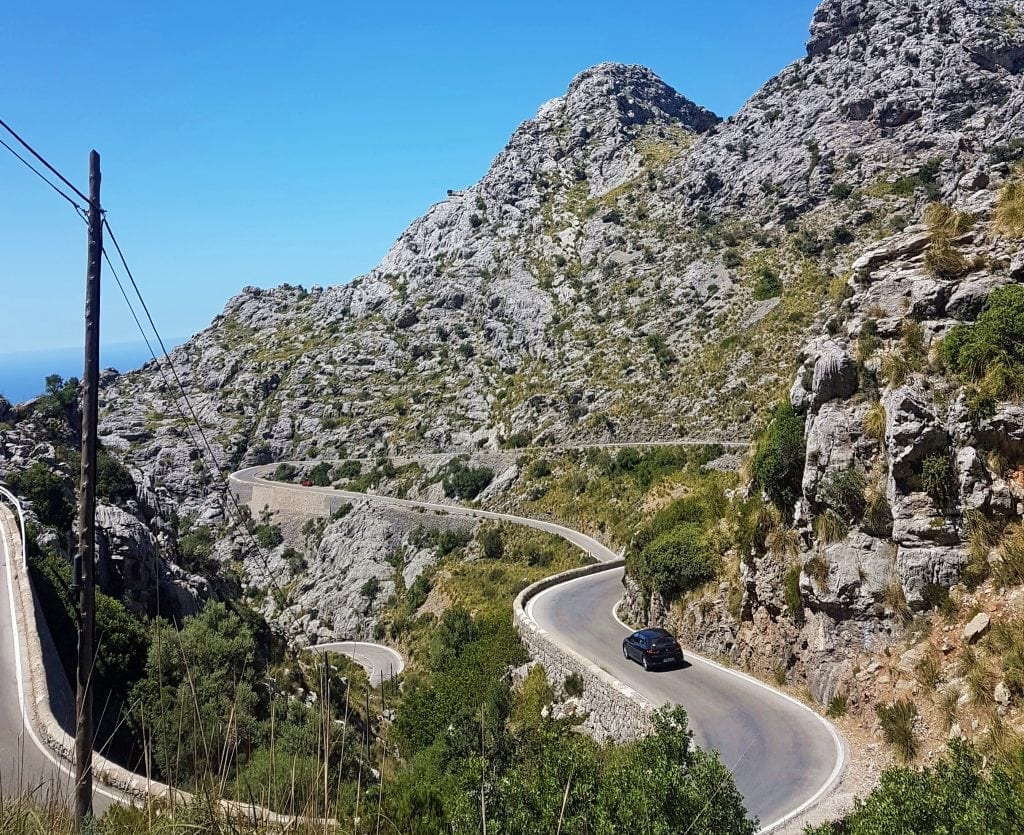 How car rental contracts looks like in Majorca?
As I wrote above, you need a driving license and passport or ID card. You can sign the contract in Spanish, English or German. There is one rental company that offers contracts in Polish! But about this soon. The languages ​​I wrote above are standards. The contract includes the type of car and the state of the tank to be returned to the rental company.
When something with Your car is wrong – You should take a picture or a video and show it to the company.
If you find a 1/4 tank in your car, then you leave 1/4 tank when you return the car. If there is a fault in the car, I also recommend taking a picture, recording a video and showing the rental company. At the moment when an accident occurs, someone scratches you or you scratch a car and you do not have full insurance, you will probably be billed for it with the rental company. By buying full insurance, you protect yourself against additional costs in the event of an accident. I really recommend it. It often happens that when you pay full car insurance you don't have to pay a deposit. And the deposit can be 2,500 euros. Car hire in Majorca, as you can see, is not that simple.
Car rental in Majorca – let´s start with some comparison of car rentals in Majorca!
1. Famous Vanrell rent a car company!
This is definitely my favorite among rental companies. They have the lowest prices. We'll start by locating their offices. Their offices can be found at the airports in Palma, Alcudia, Cala Millor, Can Picafort, Playa Muro and Pollenca / Campanet. You can also choose a different location, but this involves an additional fee. The rental is also open in winter, but not in every city. Only offices in Alcudia and the airport are open in winter. You can check it on their website or by calling them. Their site works great. Has several languages. We choose the date of issue and pickup of the car. We´ve all prices highlighted, all cars shown and the regulations described. We can reserve the car via the website, without contacting the service. In my opinion, this makes things a lot easier.
Prices may be different depending on the dates!
When we buy full insurance, we do not pay a deposit. In some cases, you can also pay in cash. Vanrell also offers luxury cars. The only minus – to rent a car in Vanrell, you must be at least 21 years old and have a driving license of 2 years. BUT, when I called the rental company to ask for details I was told that after all, when booking the car, it is worth a try.
I heard that when You will take the cheapest ones, like Fiat Panda it might be alright.
Here I am sending a link (in English) where you can find the Vanrell rental regulations: https://rentacarvanrell.com/langs/conditions/conditions_en.pdf
It describes what the basic car rental includes and what the full car insurance includes. What are the additional fees and bans? Here you have the main rental page: https://rentacarvanrell.com/en/bookings-rentacar-majorca.html
This rental is no different from any other. For renting the cheapest car for a week we will pay a little over 100 euros, including insurance. Here, they also request card data from us. Here, too, is the fee for a young driver and under the same conditions as above. The daily fee is 3.50 euros. A deposit is charged, in the amount of the full tank of the car, which is returned when the car is returned. Hiper rental has a lot of branches throughout Majorca, which is a huge plus. The prices are also very nice, so I recommend you consider. Link here: https://www.hiperrentacar.com/en/
TripCars rental station is stationed in Są Coma, Cala Mandia, Cala Millor and Cala Bona. They does not charge a deposit. To rent a car you must be at least 21 years old and must have a driving license at least a year. Drivers between 21 and 25 years old must pay an additional 8 euros per day.
Full insurance in the price.
There is a possibility of delivering the car to your hotel and it does not involve any payment, as long as you want to pick up the car in the zone where the rental company has its office. You can also pick up your car from the airport. For 7 days of using Fiat Panda we will pay around 336 euros. The prices depend on the height of the season. Here is the link to their page: https://tripcars.webcar.rent/0/trip-cars–rent-a-car-English/2
To begin with, a few minuses. The rental is only in Palma de Mallorca, 5 minutes from the airport. Plus – leaving the airport terminal we will find a Wiber bus that will take you to the rental for free. The driver must have a driving license of at least 12 months. Drivers between the ages of 21 and 24 must pay a fee of 8 euros per day due to age. There is also another option – all inclusive. It gives the opportunity to collect the car keys from the booth. Prices start from 13 euros per day, while the all inclusive option starts from 29 euros per day.
What is the difference between basic and all inclusive?
When choosing the all inclusive, we have full insurance, a booth from which we can collect the car and no deposit is charged. If you choose the basic option, we must pay a deposit of 700 euros. Card. The price of the deposit may increase for other car categories. The Viber rental does not take cars to other areas of Majorca. Works only at the airport. Here the link to the site: https://www.wiberrentacar.com/en/index/index
It's so cheap here that it's hard to believe. On their site you will see the price of 2 euro per day! To be honest, I don't trust such rental companies. Their regulations also state that the driver should have a driving license for a minimum of one year. In addition, drivers between the ages of 19 and 24 must pay 10 euros a day. Also age fee. In other matters they are no different from other rental companies. However, 15 euros for renting a car for a week tempts! And very much so. However, if you are afraid that you will be deceived. Of course, you can buy a full insurance package, gps, car seats and much more on the website. Then, of course, the price will rise. Check it out for yourself: https://okrentacar.es/en
I read opinions in the internet and they are not very great.
Customers are not satisfied with the service and apparently high fees are charged for damages that have not occurred. When renting any car, a deposit of 900 to 2500 euros is collected from us (depending on the car category). This post is used to compare car rentals. I do not recommend anything here. I'm just trying to bring you closer to the situation.
6. Polish Eagle rent a car.
They offer a contract in Polish, are stationed at the airport and in Cala Millor. It's best to write to them on their facebook, they will reply there as soon as possible. You don't get a quick response to e-mails written from a website, and we care about that, right? Currently, they don't have a well-developed website, so it's hard for me to write something more. I know they have been working in Majorca for several years. The site says that renting for one day is 53 euros, for two days 90 euros, and for 3 days 119 euros. The price includes insurance, guide, gps, child seat.
They do not take deposit and You can pay cash.
They have no age limit. A big plus is that you get along in Polish. They work practically 24/7 at the airport. A big plus here, they are very flexible. If you would like to bring a car to your hotel, this may involve an additional fee. Unfortunately, I do not know the prices, they are set individually. The rental shop is closed in winter. Here is the link to their site: https://eaglemallorcablog.wordpress.com/ and here to their fb: https://www.facebook.com/EAGLERENTACARMALLORCA/?fref=nf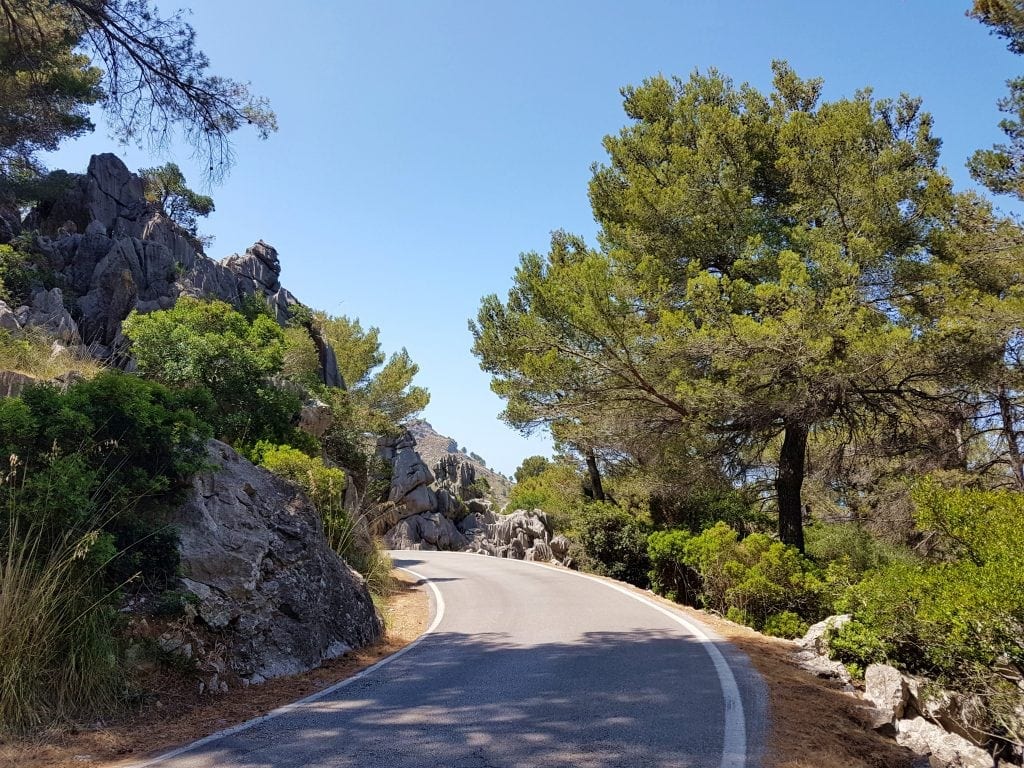 What catch can we get when renting a car in Majorca?
There are many additional fees that are not exposed on the main page. That's why I really recommend reading the regulations carefully. Each rental company prohibits taking a car outside of Majorca. If you do this, you will have to pay several hundred euros. The moment you get a ticket, money will be taken from your card for the ticket or it will be sent to you by post. However, this is not all, usually rentals despite being fined, charging you a fee for getting a fine. Exactly. It also surprises me. There are many such rules. That's why – read the regulations!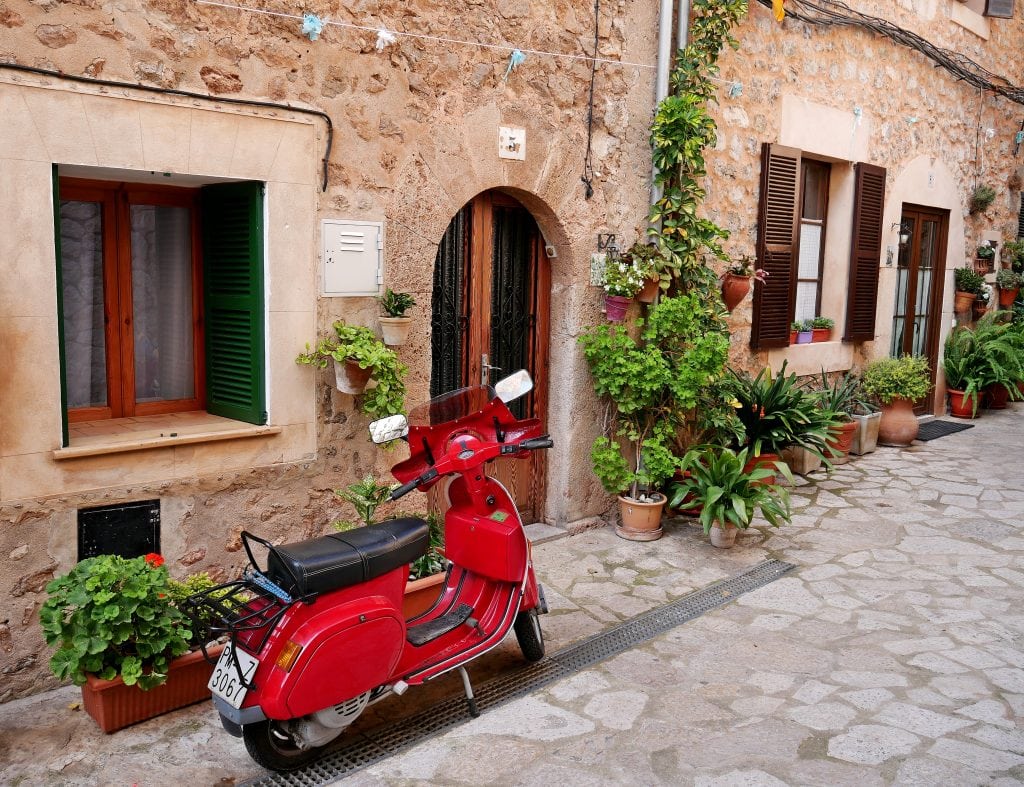 I hope I helped anybody by writing this post!
This post was to compare several rental companies. An approximation to you about how to rent a car in Mallorca. As you can see, where cheap prices, there are some more restrictions. And where higher prices, much less restrictions. Everything is leveling out. As I wrote above, I do not urge anyone to use these rentals. I recommend you consider renting a car in one of them. Each of them is different and is stationed in different places. I hope you will decide which one is best for you!